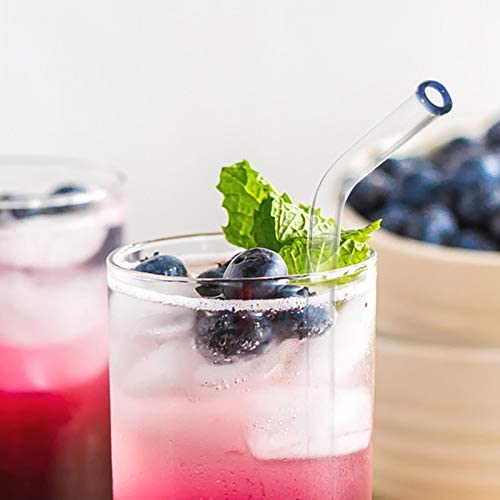 Homiu Bent Glass Straws, Premium, Healthy, Reusable, Eco-Friendly
Sold out
Original price
£7.99
-
Original price
£7.99
About this item
With millions of plastic straws being thrown away daily, these are a great way to combat that and do your bit for the environment

Plastic straws also contain BPA chemicals, which can potentially cause a number of health issues. But that won't be a problem with these as they're BPA free

Glass straws with a sleek and stylish finish, these aren't only good for you and the planet but will look great in your drink of choice

Easy to clean and dishwasher safe too, these include a cleaning brush for that extra shiny finish

Reusable hard-wearing and durable, you'll be able to use this straw time and time again
Product information
Colour: Bent
| | |
| --- | --- |
| Brand | ‎Homiu |
| Model Number | ‎101917 |
| Colour | ‎Bent |
| Package Dimensions | ‎24.89 x 12.45 x 2.54 cm; 200 Grams |
| Material | ‎Glass |
| Auto Shutoff | ‎No |
| Item Weight | ‎200 g |
---
Product Description
Adding style
Great for whipping out at parties when people don't want to put their lips to glasses, these offer a sleek and sophisticated touch to any drink.
So, it's time to say goodbye to simple white, black or coloured straws and hello to near-invisible glass fabulousness this year.
Adults and Kids
We all know that some drinks aren't great for the enamel on our teeth, such as orange or apple juice. But, that doesn't stop us from drinking them.
Not only will these stop the enamel-wearing juices from attacking adult and children's teeth alike, but these glass straws are also BPA free. These chemicals can cause a number of potential health problems and are often found in plastic straws, making these a great way to tackle that.
Do your Bit
Not only are they great for you and the kids, but they're also great for the environment.
With millions of plastic straws thrown away daily, the damage can be ever-lasting. But thanks to these you can do your little bit to help with ease.
Additional Benefits
Includes four

Includes brush

Safe for kids

Dishwasher safe

BPA free

Sturdy
Homiu curved glass straws
Helping you to add a touch of luxury to your day, transform your home with Homiu.